Listen to Real Audio files of the various KH6HME beacons. If you dont have Real Audio you can download it here.

---
KH6HME Beacon's
BK29go
50.061 mhz.
144.170 mhz.
432.075 mhz.
1296 mhz.

10368.350 Mhz.
---
KH6HI Beacon
BL01
50.065 Mhz.
---
KH7R Beacon
BL01
144.184 Mhz. +/.
---

Hawaii State
grid square map


---
In Memory of Robert Cook ( W6PJA )
The first Amateur Radio operator to keep an up to date data base of Hawai'i to California openings from 1979 to 1986.

---
KH6HME Hawaii Beacon History.

The KH6HME beacons are located on the slopes of the Mauna Loa volcano at an elevation of 8200' , with the exception of the 6 meter beacon which is located in lower Puna in the Hawaiian Beaches Subdivision on the Big Island of Hawai'i.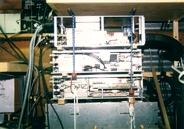 The first beacon started operating on 432.075 Mhz. in April 1979. In 1980 the 1296 Mhz. beacon was activated. In 1981 the 144.170 Mhz. beacon started sending it's signals to the Mainland West Coast of the United States. There is also a 10 Ghz. beacon which is turned on when conditions are favorable.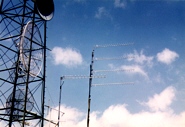 The drive to the beacon site takes about 3 hours. Listen for the beacon(s) to stop keying , then you will know he is there. KH6HME will be operating on the beacon frequencies using CW or SSB , NOT THE STANDARD CALLING FREQUENCIES OF 144.200 Mhz. OR 432.100 Mhz.